Wednesday, March 11, 2015 - 11:13
Fourth-graders (the amazing 4B!) in our PAZ after-school program at PS 214 in the Bronx just sent us a giant thank you card, and we thought we'd share it with you!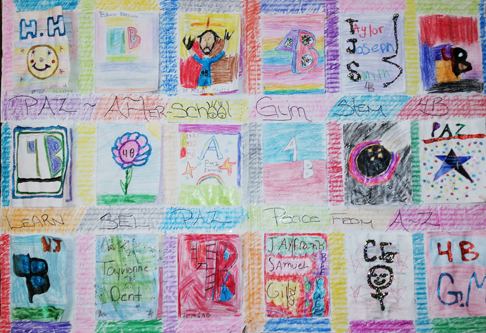 ---
Inside the big card are 18 smaller ones from individual students, sporting fabulous artwork and a message about why they like PAZ.  Here's what they said:
---

"I like gym because there is basketball, dodgeball, kickball, and we get to have free time."


"I am thankful for afterschool because of the awesome trips and games.  Also I get to meet new friends."  

 

"I enjoy afterschool because we get to dance awesome beats.  Another reason is I like gym because we get to play fun games."


"I like afterschool because we have activities like gym and science.  It's fun because we do experiments and play games."

"I like afterschool because

I have an awesome teacher.

 I also like afterschool because I have friends and I like SEL and gym."

"I like the different activities like gym, dance, art, and SEL.  And also science and reading and math."  


"The best part is the great counselors who take care of us."