Wednesday, March 23, 2016 - 09:25
---
Suspensions in NYC public schools dropped 17% in the 2014-15 school year, according to the latest Department of Education data. This continues the trend of the past four years, which has seen NYC suspensions drop 36% overall. 
Morningside Center has contributed to this effort through our partnership with the DOE to introduce restorative practices to hundreds of public schools. This program, Restore360, gives schools positive alternatives to suspension.
The latest numbers show that suspensions plummeted even faster in schools participating in Restore360 than schools than in NYC schools as a whole.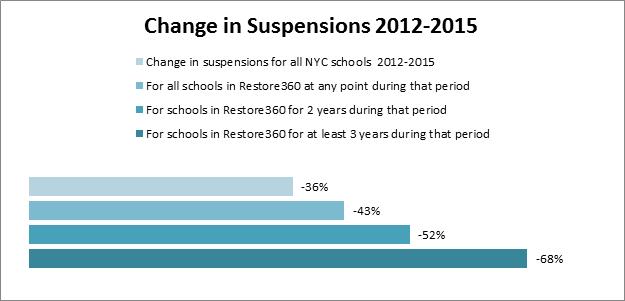 These statistics mean something important: Thousands of young people stayed in school rather than being pushed out. The DOE, like districts across the country, has been urging schools to cut suspensions, which unfairly target students of color and can lead to tragic outcomes for our young people, including to the so-called school-to-prison pipeline.
But if we're not suspending kids, how are we handling problems that arise? More fundamentally: How can we help students develop positively? How can we create a safe, caring and respectful school climate? These are challenges that Morningside Center has been helping schools tackle for over 30 years. 
 
Through Restore360:
Schools integrate regular, community-building circles into the school-day, helping young people to connect to each other and develop their social and emotional skills in a safe, respectful space.
Staff get training and support in using restorative interventions when a harm has occurred. Through this process, the person who has caused the harm is able to understand the impact of their actions on the person harmed, make amends, and be restored to the community (rather than be suspended). 
School leaders rethink their discipline policies to align them with restorative practices and social and emotional learning.
The numbers certainly don't tell us all we need to know about the promise of restorative practices and Restore360. But they're encouraging.