Tuesday, June 14, 2016 - 11:32
---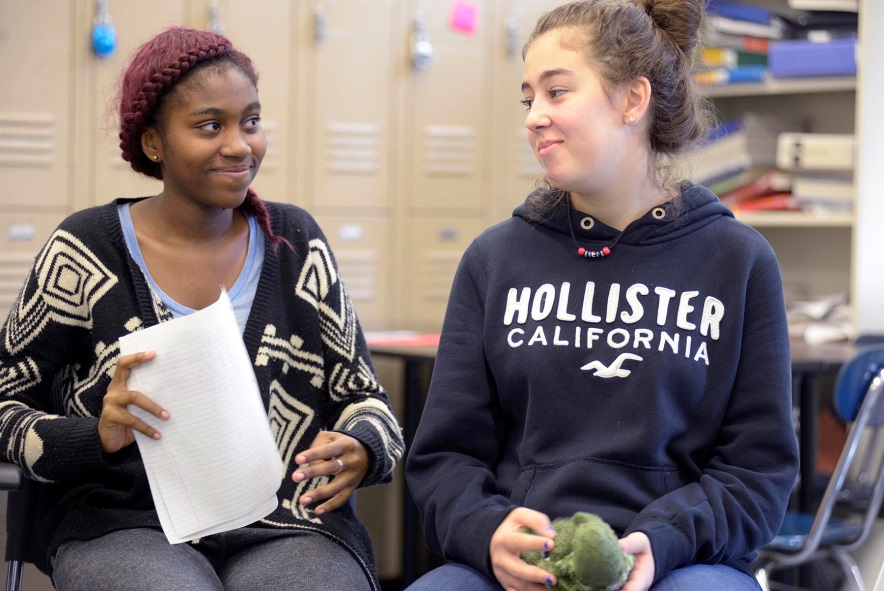 Bronx high school students in a community-building circle.
Photo © Carolina Kroon
Dear Morningside Center friends, 
Our staff developers have been working intensively all year with tens of thousands of students, teachers, and principals.  And do they have stories to tell!  Stories of young people who, given the chance, seize the opportunity to open up, to connect, to learn. Stories of dedicated teachers and principals who, amid all the pressures and deadlines, are willing to try something new and difficult (like restorative circles) if it will help their students and improve their schools.
 
I'm writing to share some stories from our schools, and to thank you for helping to make this work possible through your support for Morningside Center.  Please donate now so that you can make more good things happen in the year to come!  Your contribution will help us strengthen our programs and create new ones to meet the needs of young people and their schools.
 
For example: Our Restore360 Program has helped schools across New York City dramatically reduce suspensions by replacing punitive approaches to discipline with restorative practices – including regular community-building circles in the classroom. 
 
But Restore360 does a lot more than reduce suspensions.  It helps connect students to each other. One staff developer tells how "over seven circles, I saw the students transform from a group of people who did not know each other to a community where trust and comfort were established." Another says that teachers at her school "marveled at how, even though the three circles they'd done with students included kids across all grades who didn't know each other beforehand, these kids were now calling down the hall, 'There's my Circle buddy! Hi!' Teachers saw interactions going on among kids who previously did not even acknowledge each other." 
 
Young people cherish the caring, respectful climate created in circle. One staff developer tells how students who were often absent were asked to attend voluntary lunch-time circles. By the second month, she reports, "students began to show up consistently with friends.  A group formed, expressing the desire for circles at lunch every day because of the quiet and peacefulness compared to the chaos of the cafeteria and playground." 
Staff developers tell about how students often begin circling up on their own, before the teacher even arrives. "From the very first circle we facilitated, it was clear that the students at this school craved an outlet to speak about their experience and get to know their peers," one staff developer told us. "When they came into a classroom and found it set up for a circle, they squealed 'Yesssssssss!' They soaked up every circle they could get."
 
The safe space created in circle can allow important issues to surface.  A circle in a 6th grade math class included one student who was frequently absent.  Our staff developer reports that "In the course of the circle, students started opening up about their experiences in relationships. The student who was frequently absent revealed that she had been in an abusive relationship.  After the circle, many students came up to her to show support and let her know that her story was meaningful to them.  The teacher reported to me that this student's attendance has been much better since that circle."
 
In another circle, students shared stories about what was good about being a teenager, and what was challenging. As they passed a talking piece around the circle, each person spoke in turn. Several students and adults described how they had been bullied in the past. One young man took the talking piece and paused. Then, he shared that after listening to the stories today, he realized that he had been a bully. Only now did he see how his behavior might have scarred others. In the closing moments of the circle, a student who had not been paying attention early on shared that what had happened today was "different" from what usually happens at school.
 


We're moved by all the courageous students and teachers we worked with this year, and by our own courageous staff developers.  And we're moved by the support we get from you and other contributors to do this work.  Please help us carry it on by making a contribution this spring! 
 
With best wishes,
 
 


 
Tom Roderick
Executive Director
 
P.S.  Restore360 is just one of the programs your contribution will support. Our 4Rs Program uses literature as a launchpad to help students  learn and practice life skills. Our PAZ after-school programs bring joy and knowledge to some 700 young people in Brooklyn and the Bronx.  CREW: Friends for the Journey strengthens  after-school programs across NYC.  And TeachableMoment.org provides free lessons to foster critical thinking and social responsibility. Find out more about what we're up to at www.morningsidecenter.org.