Tuesday, December 13, 2016 - 08:50
Dear friends,
Right now, our kids need us. And we need you.

In the wake of the presidential election, we've seen a tide of hatred in schools around the country. Muslim students have been called "terrorists" by their classmates. Immigrant students have been told to "go back to Mexico" or "get behind the wall." Girls have been grabbed by boys who apparently feel emboldened and entitled by the President-elect. Swastikas have appeared in bathrooms and hallways.

Everything that Morningside Center does is intended to prevent and to counter hateful behavior like this. Our tools are many, and our reach is long:
We build empathy and community through evidence-based classroom programs and curricula that reach tens of thousands of young people each year.
We help young people develop and practice the skills they need to stand against bias and to work with others to strengthen our communities.
We give school leaders concrete support to make their schools kind, caring, and respectful.
Through TeachableMoment, we provide, on a weekly basis, free lesson plans on current issues for hundreds of thousands of educators each year. The lessons aim to foster students' empathy with people nearby and far away, deepen their understanding of the challenging issues facing humanity in the 21st century, equip them with what Ernest Hemingway called "built-in, shockproof crap detectors" for ferreting out lies and simplistic thinking, and develop their capacity to conduct civil classroom dialogue, even with those with whom they disagree.

In the coming months and years, we'll redouble our efforts to stop hate and to help young people become the caring, informed and active citizens our society so desperately needs.

But we need your help to do it! TeachableMoment is our gift to educators. It's a labor of love from Morningside Center that is supported largely through individual donations. Our deepest program innovations aren't supported through contracts with schools – they come from general funds. That means you!

If we stand together, we can turn the tide of hate and injustice. Please join with us by giving generously to Morningside Center for Teaching Social Responsibility at this critical moment in our nation's history.


Tom Roderick
Executive Director
P.S.
See below for a glimpse of some of the thousands of young people who are working with us to make their schools havens of caring and respect.
---

These kids build community!
The students below, from our PAZ and CREW programs at PS 214 in the Bronx, include peer mediators who solve conflicts and build community both in school and after school. Many thanks to Chelsea, Gabriella, John, and other student leaders, our PAZ @ PS 214 Program Director Bryanna Kolja, and our staff developer Ava Daniels (top, left)!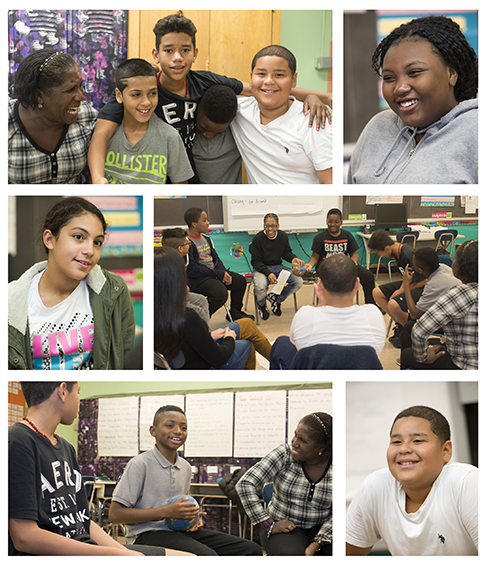 Photos © Carolina Kroon