Advisories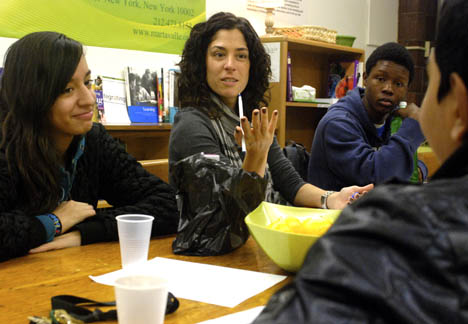 Advisories at Marta Valle HS. Photo © Carolina Kroon
Morningside Center's Advisories  offers two kinds of services for schools:
consultation and facilitation in designing an effective advisory program
professional development for school staff to support advisors in implementing an effective social and emotional learning (SEL) component with students
Designing an Effective Advisory Program
Good planning is essential in creating an effective advisory program. Morningside Center provides support for collaborative planning tailored to a school's needs. The process begins with establishing a planning team and getting input from teachers, students, parents, and student support staff. Issues to be addressed include: purpose, frequency, content, staffing, evaluation, and training for advisors. Morningside Center can support advisors in using our advisories curriculum. The curriculum uses a circle process to build a sense of community among students and develop their SEL skills. A staff developer from Morningside Center can help at every step of the way.
Professional Development for Advisors
Morningside Center's special expertise is helping schools implement SEL programs. We provide professional development for teachers to support them in providing classroom instruction to students in listening, assertiveness, feelings, problem-solving, diversity, and cooperation. Morningside Center can provide professional development to support teachers in facilitating circles-based advisory sessions using our advisories curriculum.
For more information, please call or email Lillian Castro at Morningside Center: 212-870-3318 x33; LCastro@morningsidecenter.org
Social & Emotional Learning