PAZ After-School Programs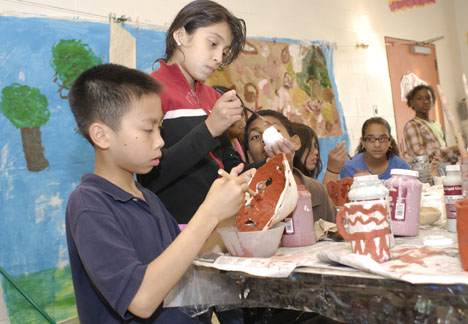 Making pottery at PS 24 PAZ program. Photo © Carolina Kroon
PAZ (Peace from A-Z) After-School Programs
Morningside Center for Teaching Social Responsibility operates three after-school programs that strengthen the social and emotional competencies of some 560 students from grades K-8. Out of school time provides opportunities for students to explore the concepts taught in Morningside Center's day school programs through artistic, athletic and intellectual projects and activities.
PAZ @ P.S. 24
The PAZ @ P.S. 24 program reaches 180 elementary school children at Brooklyn's P.S. 24. The program operates from 3 to 6 p.m. every school day as well as over the summer and during school holidays. PAZ @ P.S. 24 was launched in September 1999 by Morningside Center and P.S. 24 with funding from The After-School Corporation.
PAZ @ P.S. 214 Middle School
The PAZ @ P.S. 214 program reaches 160 middle school children at P.S. 214 in the East Tremont section of the Bronx. The program operates Monday – Thursday from 3 to 5 p.m. as well as on school holidays. PAZ @ P.S. 214 was launched in September 2009.
PAZ @ P.S. 214 Elementary School
The PAZ @ P.S. 214 Elementary program serves 220 children, grades 1-5, with a program of academic support, social and emotional learning, engaging art and science and community projects, and cooperative sports. The program operates every school day from 3-6 pm and all day during school holidays. 
PAZ After-School programs help children learn to
Communicate better
Identify and express feelings
Manage anger
Handle conflicts nonviolently
Cooperate with peers
Respect differences
Stand up to bias
Make healthy life choices
PAZ students participate in activities including:
Arts and Crafts
Dance
Cooperative / Competitive Sports
Yoga
Eco-club
Community service
Humanitarian relief organizing
Newspaper / Newsletter
Conflict Resolution
Homework Help / Academic Enrichment
For more information, please contact Lillian Castro, Morningside Center's director of administration, at 212.870.3318 x33 or by email at LCastro@MorningsideCenter.org. 
Social & Emotional Learning