Classroom Management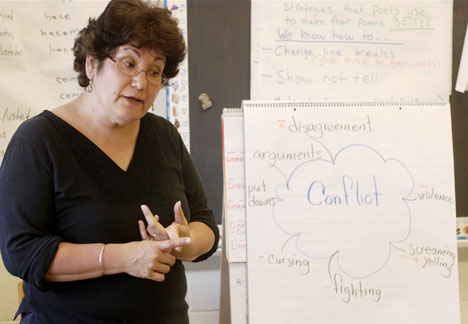 Helping students understand conflict.
Photo © Carolina Kroon
Morningside Center's staff developers are available to provide tailored support  to help teachers create a positive classroom climate and handle challenging behavior in ways that foster students' social and emotional learning.
All of Morningside Center's classroom-based programs help teachers and students build a respectful classroom community where students can learn.
Our 4Rs Program (Reading, Writing, Respect & Resolution), for example, provides training and ongoing coaching for teachers to help them create a caring and respectful classroom climate. Researchers studying The 4Rs found that teachers implementing the program had  significantly higher levels of overall classroom quality compared to non-4Rs classrooms, including higher levels of emotional and instructional support. What's more, this higher classroom quality is correlated in other research with more positive social and emotional development and higher academic achievement.  Morningside Center is now working with the University of Virginia to develop a research-based process of intensive teacher coaching to help teachers improve the quality of teaching in 4Rs classrooms.
Through our Restore360 Program (grades 3-12), we support schools in using circles and restorative practices to build community, develop a climate of trust and respect, and reduce suspensions.
Social & Emotional Learning