Respect for All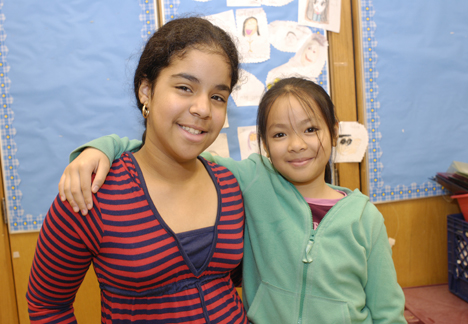 Peer mediators at PS 24, Brooklyn.
Photo © Carolina Kroon
Morningside Center collaborates with the Department of Education and five other nonprofits to provide Respect for All workshops for staff of schools throughout New York City.
Through these two-day awareness and skill-building workshops, which Morningside Center helped design, we train and prepare school staff to create a school climate that discourages bullying, harassment and intimidation of students based on their sexual orientation, ethnicity, national origin, religion, gender, or disability. The workshops are based on the understanding that to stop bullying and harassment, we have to tap the power of the bystanders to interrupt hurtful behavior. That is, we have to enlist the whole school in enforcing respect for all.
Through the workshops, participants:
share and reflect on their own cultural  backgrounds and experiences of prejudice and discrimination (including teasing, harassment, and bullying)
learn about the special challenges faced by LGBTQ youth and strategies for making schools safe for them
learn and practice best practices in addressing prejudice and discrimination
begin planning how they'll use what they 've learned to make a sustained positive impact on their schools
---
Morningside Center works flexibly to meet the needs of schools. For more information, please contact us.
Social & Emotional Learning