Social & Emotional Learning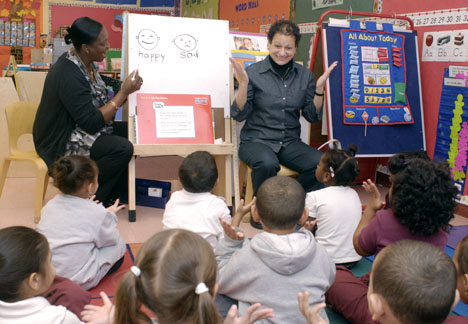 Practicing the 4Rs at PS 214, Bronx.
Photo © Carolina Kroon
All of Morningside Center's programs aim to foster children's social and emotional learning.  We foster SEL through classroom curricula, including The 4Rs and Restore360, through school-wide peer mediation and student leadership programs, by helping schools develop comprehensive approaches to SEL, discipline, (Rethinking Discipline), and eliminating bullying (Pathways to Respect), through our PAZ after-school programs and more.  Please see descriptions of these programs for details!
Morningside Center defines SEL as the process by which we develop our emotional intelligence. It consists of:
understanding and managing feelings
relating well to others
dealing well with conflict and other life challenges
focusing attention and concentrating
setting goals and working toward them
making good decisionstaking responsibility for improving our communities – from the classroom to the world
For more information, contact: Lillian Castro, Director of Administration, 212.870-3318 x33; LCastro@morningsidecenter.org.
Social & Emotional Learning