Staff Development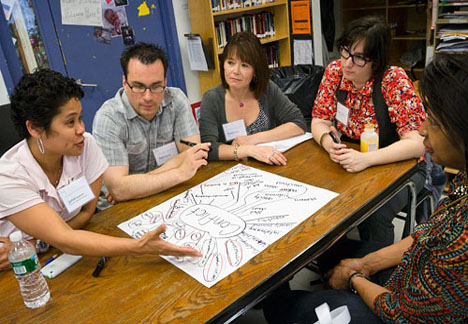 Educators work together towards understanding the positives in conflict at the Courageous Schools Conference
Photo © Christopher L. Smith
All of Morningside Center's school-based programs provide staff development for adults, especially teachers, using  engaging, interactive workshops and evidence-based approaches to teacher coaching. 
Our classroom-based curriculum programs, including The 4Rs (Reading Writing, Respect & Resolution) and the Resolving Conflict Creatively Program, provide teachers with training workshops followed by extensive classroom coaching to support them in effectively teaching the curriculum - and in creating a positive classroom climate.  
 
Our Advisories program, Pathways to Respect, and Rethinking Discipline programs are also built on effective professional development. In addition, we provide professional development for adults in supporting school-wide peer mediation and Peace Helper programs.
 
We provide professional development for principals through our Planning for SEL program. 
For more information, contact: Lillian Castro, Director of Administration, 212.870-3318 x33; LCastro@morningsidecenter.org.
Social & Emotional Learning