Workshops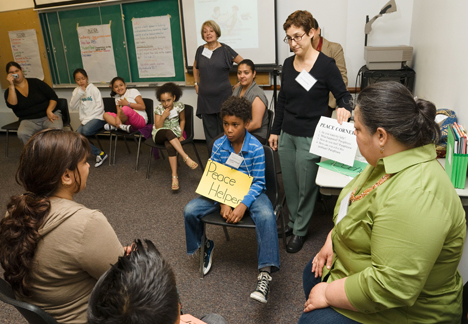 A peace corner is examined during a Fostering SEL in Elementary Schools session at our Courageous Schools Conference.
Photo © Christopher L. Smith
Morningside Center's school-based programs are focused on providing sustained and comprehensive support for schools, including training and coaching in classroom curricula and support for school staff in establishing school-wide programs such as peer mediation.  As part of these programs, we regularly provide engaging, interactive workshops for both adults and students.
In addition:
Each year, usually in the winter, we offer one-day Saturday workshops for teachers and parents on particular aspects of social and emotional learning. If you are interested in participating in these SEL workshops, please sign up for our

         enewsletter          so that we can keep you up to date on our offerings.
 

Through Respect for All, a collaboration with the NYC Department of Education and several other nonprofits, we provide stand-alone workshops for selected school staff on creating a respectful school climate.
 
Through our Peace in the Family workshop series parents learn and practice skills aimed at improving communication with their children and supporting their children's social & emotional learning. 
 
We occasionally provide other stand-alone workshops for school staff upon request.
For more information, please contact: Lillian Castro, Director of Administration: 212-870-3318 x33 or LCastro@morningsidecenter.org.
Social & Emotional Learning