Restore360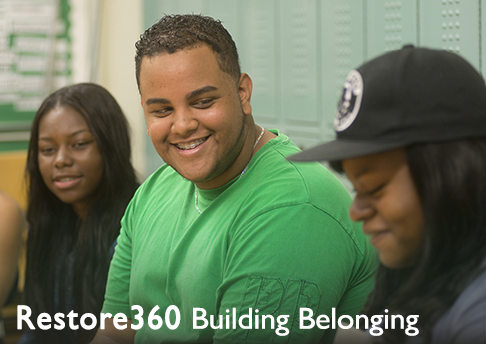 Through Restore360, schools:
Dramatically reduce suspensions and the incidents that can lead to suspension
Increase students' connection and engagement with each other, with adults, and with school
Bolster students' social and emotional skills, which are critical to their success in school and in life
Create a safe, supportive, and respectful school climate that benefits all members of the school community
Restore360 has been introduced in hundreds of schools in a joint effort by Morningside Center and the New York City Department of Education to spread restorative practices throughout the city. It is one of the nation's most ambitious efforts to bring restorative approaches to schools.

How it works
Morningside Center provides training, coaching, and tailored support to help schools make the shift to restorative practices:
Educators receive training and school-based coaching to help them facilitate daily or weekly restorative circles. Restore360 provides circle facilitators (keepers) with a social and emotional skill-building curriculum that draws from Morningside Center's evidence-based SEL programs. By investing in building community and students' skills, schools can prevent many harmful, destructive acts from occurring.
School staff receive training and coaching in conducting restorative interventions to address situations in which harm has been done, creating an alternative to punitive discipline. Through this process, the person who caused the harm meets with the person who was harmed, together with other members of the community. Under the guidance of a skilled facilitator, they explore the impact of the harmful action and decide together how to heal the harm and restore the community.
Principals and their planning teams get support for rethinking school discipline policies to ensure that they are aligned with SEL and restorative approaches, helped by a facilitator and detailed guide.

Parents and all members of the school community are supported in using restorative practices.

Results
In an independent evaluation of the program, teachers reported that students participating in Restore360 were more likely to resolve disagreements without fighting; more collaborative during lessons; more likely to stand up for others; and less likely to behave in ways that lead to detention or suspension.
Suspensions dropped an average of 43% and incidents of disruptive behavior dropped by 44% in schools that have received any Restore360 coaching. In schools with three or more years of Restore360 coaching, suspensions dropped by 68%, disruptive incidents dropped by 62% and graduation rates improved, especially for low-income students.

More information
---
Morningside Center works flexibly to meet the needs of schools. For more information, please contact us.

Social & Emotional Learning